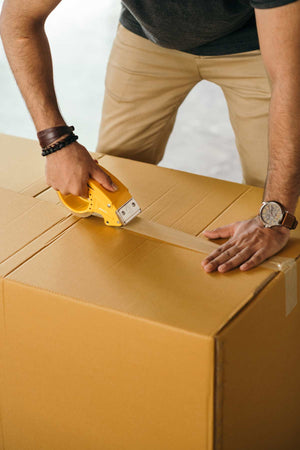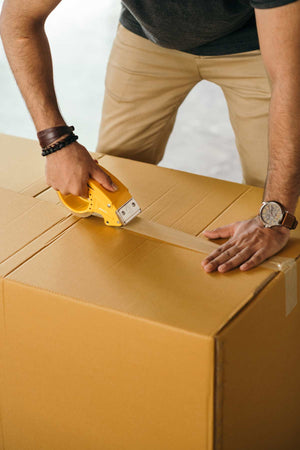 Delivery Information:
| | |
| --- | --- |
| Shipping Method | Charges |
| Standard Day Shipping (orders over £100) | FREE |
| Standard Day Shipping (orders under £100) | £3.95 |
| UK Delivery | 2-3 Days |
| Outside of UK Delivery | Up to 10 Days |

For orders of under £100* we will charge a flat rate of £3.95 and send all packages via TNT or Royal Mail. For orders equal to or over £100*, shipping costs will be waived, and packages will be sent via TNT free of charge.
Next Day Delivery is only available for packages over 2kg with TNT.

Shipping Types
Your order is our top priority which is why we are dedicated to provide fast, safe and reliable delivery services for all of our products. Our deliveries are usually made Monday through Friday.
All orders will be issued with a reference number, which can be used to track your order; please quote this number when contacting us.
Below we have our types of services.
| | |
| --- | --- |
| Small Items | Larger Items |
| Sent via Royal Mail | Sent via TNT |
| Packages up to 2kg | Packages over 2kg |
| Tracking Available | Tracking Available |
Collection / Pick Ups
Collections are available upon the checkout page in the options for shipping. Once you have purchased your order with the pick up option, you will be sent a confirmation email that we've received your order. You will be notified within a couple of hours when your orders are available for pick up.

Payment
All prices are shown in Great British Pounds (£)

Payment is taken through a secure connection approved and provided by Barclays Bank and cannot be viewed by anyone else on the web.

We accept all major credit/debit cards: American Express, Apple Pay, Google Pay, VISA, MasterCard and PayPal.

We do not accept payment via Nochex.

We will not dispatch products until payment has been received in full.

We will not store any credit card information.

Prices & VAT
All prices are shown in Great British Pounds (£GBP).

All trade prices exclude VAT (17.5% before 1 Jan 2011 and 20% after).

VAT will automatically be added to the items in your basket prior to payment.

If you are entitled to claim back VAT, you can find our VAT number on the invoice that will be emailed to your registered address on completion of your online order. Orders that are taken over the phone will have the invoice posted to the billing address the day after the order is dispatched.

Special Offers
The special offers and promotions on this site are available to online orders only and cannot be used in conjunction with any online discounts which may be available at the time.

Stock Availability
Goods are subject to availability.

Any product, which is out of stock but for which payment has been received, will be sent with the rest of the order as soon as the out of stock item becomes available. We aim to dispatch out of stock items the next day once stock is available.

If there is an excessive delay we will endeavour to call you within 10 working days of your order being placed to offer an alternative. If you are not happy with the alternative product or the revised delivery time of the original product we will refund the value of the out of stock item to your account within 30 days.

Returns and Order Cancellations
If you wish to return products that are damaged, or wish to report a discrepancy with your order, this must be done in writing within three working days of receipt of goods.
If for any reason you wish to return your purchases to us you must notify us in writing within three working days of receipt of goods and return items to us within 30 working days of receipt.
Before returning any products please contact our Returns Department on +44 1536 463 350 to be issued a returns number. The buyer will be responsible for the cost of returning the goods unless the goods were delivered in error.
All returns must be unused and unopened. Items must be returned in packaging suitable for safe postage. If you have any doubts about packaging your goods please contact the Returns Department who will be able to provide further advice. All returns must be clearly marked for the attention of:
Returns Department, United Beauty, Princewood Road, Corby, Northamptonshire, NN17 4AP, United Kingdom
We cannot accept liability for lost or damaged parcels in transit to us. Cancellation of an order will only be accepted prior to dispatch.

Customer Complaint Procedure
United Beauty is committed to providing good customer service across all aspects of our business. Should you be one of the few customers to experience a problem regarding our products or delivery, please follow the procedure below:

If you receive an order with damages or discrepancies, you must notify us in writing within 3 working days of receipt of goods.

Any faulty or damaged goods that you may receive must be reported to us at the time of complaint to obtain a returns number.

All returns must be sent back in packaging suitable for safe postage with the returns number and must be clearly marked for the attention of:
Returns Department, United Beauty, Princewood Road, Corby, Northamptonshire, NN17 4AP

Items ordered in error may be returned at United Beauty's discretion and may be subject to a restocking fee.

A refund of the goods returned will be credited to your account within 4 weeks of the complaint. However, if for any reason there is a requirement to keep the complaint open for longer, one of our sales representatives will contact you with an update and advise an expected date for completion.

A refund for the postage paid by yourself will be provided for any goods that you return to us due to damage or incorrect goods received. You will need to provide proof of postage and a total cost charged to you by your carrier/courier in the form of a receipt or bill copy.

Any replacements that we may send to you will be invoiced. Free of charge issue of stock is not permitted within United Beauty. You will not be required to pay this invoice, nor will credit control chase you for the invoice in question and a credit note will be raised to reflect the replacement/original invoice.

Should you have any queries please contact our sales department on +44 (0) 1536 463 350 who will be happy to help you.

Stockists
All products on this site can be ordered direct from United Beauty or purchased through United Beauty wholesales stockists throughout the UK, Europe and selected countries worldwide.

For the most up to date list of stockists please contact: websales@unitedbeauty.co.uk

Ways to Order
Order online - www.unitedbeauty.co.uk

Order by phone – Call +44 (0) 1536 463 350 between 9am – 5pm Monday – Thursday or between 9am – 3:30pm on Friday.

Our friendly sales team will take your order via websales@unitedbeauty.co.uk


Technical Support
We are always happy to provide advice or assistance with any product related or application questions. If you need any help please call +44 (0) 1536 463 350 and our Technical Manager will call you back.

Alternatively you can email websales@unitedbeauty.co.uk


Site Security and Payment
Shopping with United Beauty is safe and secure. All personal information collected during your visit such as credit/debit card details, which are sent from your browser to our servers, are encrypted via 128-bit SSL Technology meaning that information passed between your computer and our website cannot be read in the unlikely event of someone intercepting it. Credit and debit card transactions are secure.

Disclaimer
United Beauty reserve the right to change, at any time, the price of goods offered for sale without notice. Although United Beauty tries to ensure that the information on this site is accurate, errors can sometimes occur.

United Beauty will not have any liability to the customer whatsoever in respect of the incorrect storage of goods or failure to observe the instructions or recommendations regarding the use of goods purchased from us.

United Beauty is a trade supplier and the products for sale are for professional use only. By purchasing you have told us that you are a trained professional or a student under qualified instruction. United Beauty will accept no responsibility for the inaccurate use of any goods sold or for any claim, loss, damage or injury resulting from these.
 
*Orders under £100 excluding hazardous products
**Northern Ireland, Highlands and Offshore islands
***Please note that delivery schedules may be affected by the public holidays.